Specs & Ordering
Larimar's materials, workmanship
and style will make your kitchen
"The Jewel of your Home"
Each style series is available in any of our woods and finishes and with your choice of accessories. We also offer custom design at reasonable charges.
We manufacture our cabinets in our own plant and sell direct to you. We will work alongside your contractor from product selection to installation so your renovation project will be completed smoothly.
Contact us for a free estimate. We serve the 5 Boroughs of New York City, Westchester, Rockland and Bergen Counties, and the Lower Hudson Valley.
Specs & Ordering
Cabinet specifications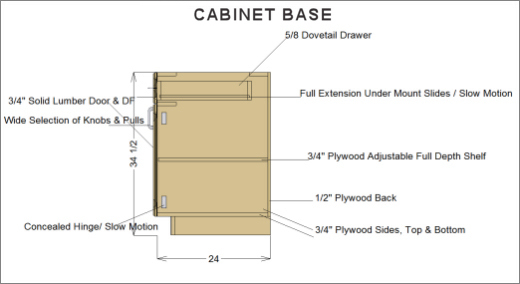 We want to build your cabinets just the way you want them, so width and height dimensions can be varied from the standard specs above:
Cabinet construction is frameless
Cabinet width is totally flexible without incurring an extra cost
Cabinet height is flexible without incurring an extra cost